What Syncs?
Accounts under accountant consoles or signed up before 9/15/17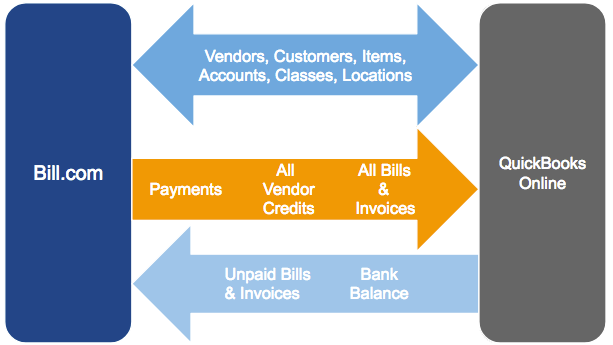 Accounts signed up after 9/15/17 not created under an accountant console
FAQs 
Why don't some of my bill/invoices from QuickBooks Online show up in Bill.com?
Make sure you have set your sync preferences (Unallocated Expense, Unallocated Income, Bank account GL…)
Only unpaid Bills and invoices will sync from QuickBooks Online to Bill.com. We do not sync historical Paid or Partially Paid bills or invoices.
Only USD Currency is supported by Bill.com, hence Bills and Invoices must be in this format in order to sync over.
Bill and Invoice Numbers are required in order for these to sync from QuickBooks Online into Bill.com.
How do I reconcile my Bill.com payments?
How do I track payments I make outside of Bill.com?
How do I track the application of vendor credits?
When you apply a vendor credit in Bill.com, the application will sync back to QuickBooks Online based on payment status of the bill. See Application of vendor credits for more information.
How do I stop bills/invoices syncing from QuickBooks Online?
By default, transactions are 2-way sync. If you want them to sync only f

rom Bill.com to QuickBooks Online, please contact Customer Support.
How can I view my bill documents from QuickBooks Online?
Documents do not sync between Bill.com and QuickBooks Online.
How and where do I sync?
Syncing can be performed from within Bill.com in two different ways. 
Hover over the sync icon at the top of any Bill.com page
Click Sync Now
Or
Hover over the gear icon, and then click Settings
Under Sync, click Sync Now
When syncing, do I have to sit and watch?
You can leave the sync screen at any time and continue to work in Bill.com. The sync icon at the top of every page in Bill.com will show your sync progress.
Do I need to sync manually every time?
While you can sync manually at any time, the sync will automatically run approximately 24 hours after your most recent sync. We suggest syncing daily to ensure QuickBooks Online and Bill.com are up-to-date, and financial reports are accurate.
To turn on Auto Sync:
Hover over the gear icon, and then click Settings
Under Sync, click Preferences
Click the edit icon
Select Sync Automatically
Click Save
Why don't my credit memos sync?
Currently, Credit Memos do not sync. 
Why aren't the payments I record in QuickBooks Online syncing to Bill.com?
Only accounts signed up after 9/15/17 have 2-way payment sync.