In situations where you need to receive payments from your customers via Bill.com, it can be useful to create such payments manually. To do this:
1. Navigate to Receivables > Get Paid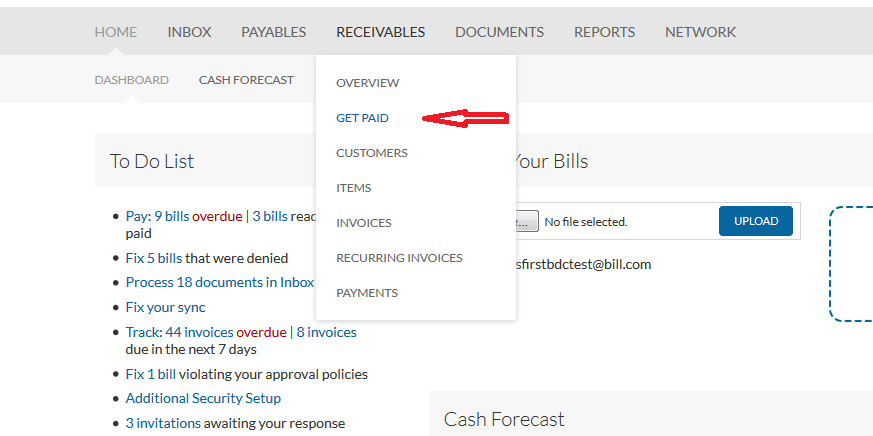 2. At "Get Paid" indicate the payment being added IS a live payment, to be received through Bill.com, by filling the "Charge Customer" bubble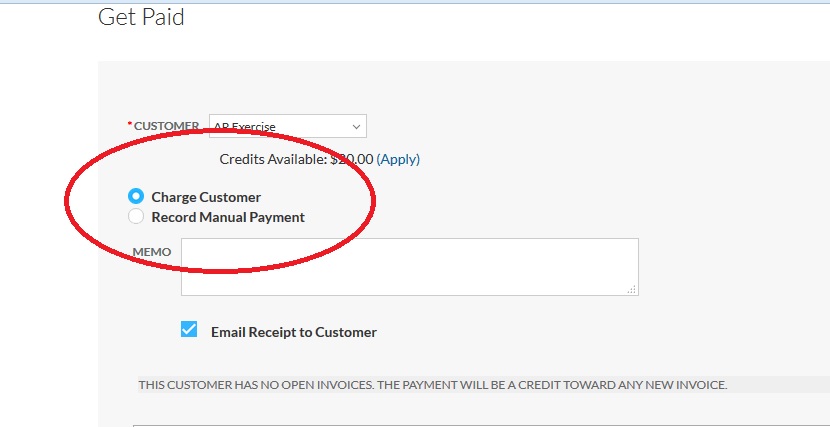 3. From the drop-down menu, select the customer you would like to charge
4. Enter information such as:
Memo - Enter notes, if necessary
Check the "Email Receipt to Customer" box, if you wish to supply an emailed receipt
Select the invoice(s) this payment should be applied to and enter the amount to be applied (to each if more than one)
Pay From - Bank Account or Credit Card
Pay On - Date the payment is to be debited from your customer's bank account (Credit card payments are processed immediately, on the date you are scheduling the payment)
5. Click Submit.
6. Once the payment is created, the payments received screen will bear a projected deposit date, and any updates regarding the status of the payment will trigger the issuance of an email, to advise.
Things to know:
These steps presume that there is already a valid means of payment in the customer profile, and that the applicable portions of the Online Payments section are completed.
Once the payment is created, the Payments In screen will display a Payment date which is the projected deposit date
Any updates regarding the status of the payment will trigger an email notification
Users must have manage invoices permissions to charge a customer
Resources