Document Introduction

This document provides step-by-step instructions on how to set up the sync between Bill.com and Intacct.
This guide will walk you through setting up a Multi-Entity Intacct account with Bill.com, syncing at the Entity level.
IMPORTANT
If you haven't already done so, please review the Intacct Sync User Guide before proceeding, to make sure this is the correct guide for your particular configuration. 
Table of Contents
1. Pre-Implementation
To perform the sync setup, you will need:
Full Admin access to Intacct, with user role permissions
Admin/Accountant access to Bill.com
 Syncing to the Entity Level with a Multi-Entity Account
In this configuration, Bill.com will sync to the Entity Level in Intacct. You will enter the Entity ID in the Sync > Login Info page in Bill.com. 

Where to find the Entity ID:

In Intacct, go to the Root Level (top level). 
Go to Company > Entities. 
The Entity ID will be on the left side of the page.
All list objects (Vendors, Chart of Accounts, Customers, Departments, Locations, Items, etc.) will have a 2-way sync. They can either be created at the Root Level and shared to all Entities, or created at the Entity Level.
IMPORTANT: If list objects are created at the Root Level and shared to Entities, those list objects must be maintained in Intacct, and not Bill.com. 


If a list object is created in Bill.com, it will only sync to the entity level in Intacct and will not be shared.
By syncing at the Entity Level, bills and payments will ONLY sync to that Entity. Bills cannot be coded to any Entity other than the one it syncs to. 
2. Implementation
Create a Bill.com Sync User in Intacct 
Create a user at the Root Level (top level) and give it full permissions. If you have multiple Bill.com accounts syncing with the Entity Level, you will use the same sync user credentials in Bill.com, and distinguish each by adding the Entity ID when you enter your Intacct Login Info later on in the set up process. 
Go to Company > User > Add                                                                                                                                     
User ID, First name, and Last name:

This username indicates a non-billable user and is used strictly for the integration.

Email address:

Use the email address of the person managing the Bill.com account or the sync.

User type:
Admin privileges:
Select Keep my password until I reset it
Select Web Services Only.

IMPORTANT:

If this checkbox is not enabled, this user will become billable.
Once you've created the user, go to the Company > Users> Billcom user > Subscriptions and make sure Permissions are enabled for all Modules.    
In addition to selecting all of the applications/modules from the left side, make sure to click on each Permissions and select All from the top right, saving your changes as you go. Some modules have multiple Permissions sections, so be sure to select them all.
If you use Role-based permissions, you'll need to create a new Role for the Billcom user, with access to all modules in Intacct. 
Click Company > Roles > Add
Create the role, and select all of the modules from the left column. Select all permissions, and click Save.
Assign this role to the Billcom user.
In this case, a role must be created and then permissions assigned. Once the permissions are assigned, that role can be associated to the Billcom user.
Note:  Once the Billcom user is created, you'll receive an email from Intacct containing a temporary password. Log in, and create a new password.
Create a Bill.com Clearing Account
Payments made through Bill.com will go through this bank account in Intacct. 
Go to Cash Management > Checking > Add
Enter the Account Id, Account number, and Bank name.
Account Id: Bill.com Clearing
Bank name: Bill.com Money Out Clearing
You will need to create a GL account for this bank account. See the next section.
Enter the Entity ID that corresponds to this bank account, and create a separate Clearing Account for each entity. Best practice is to include the Entity ID with the Billcom Clearing name (e.g. Billcom Money Out Clearing - US)
Note: Each Intacct Entity can sync with one Bill.com Money Out Clearing Account.
Create a GL Account for the Clearing Account

From the bank account page, click Accounting information > GL account. Select Add from the drop-down menu.
Fill out the following fields:

Use any available GL account number

Bill.com Money Out Clearing

Do not select any dimension settings; these are not required.
Primary/Sub Account number:
Title:
Account Type:
Normal Balance:
Period End Closing Type:
Dimension settings
Click Save
If you are using Accounts Receivable, follow the steps above to make an account called Bill.com Money In Clearing.
The customization package allows you to do the following:
In Intacct, view bill or invoice images you have entered in Bill.com by clicking View Details in Bill.com.
In Bill.com, track Intacct updates for:

Deleted Departments, Locations, Vendors, Accounts, Classes, Customers, Items, Projects, Employees, Bills, and Invoices
A subscription to Customization Services in Intacct is required.

On the Home page, click Company > Subscriptions
At Web Services, click Subscribe.

Click the following link, or copy/paste it into your browser: https://771f473801c0b18ffef3-7d086b3f1e6695f88d9e14526d5f6849.ssl.cf1.rackcdn.com/billcom_package.xml
Right-click on the page with your mouse and select Save As, or click Ctrl+S to save as an XML Document.
In Intacct click Customization Services/Platform Services > Customization Packages > Add
Select the saved file from your desktop, and then click Save.
Turn off Account Labels in the Intacct Accounts Payable and Cash Management modules.
From your Intacct account Home, click Company > Subscriptions
At Accounts Payable, click Configure
Under Enable functionality, make sure Enable Account labels is not selected.
Click Save. You will be directed back to the Subscriptions page.
At Cash Management, click Configure.
Under Accounting, make sure Account labels is not selected.
Click Save
If you use Vendor Sequence numbering, you'll need to enable auto numbering in Bill.com. To determine whether Vendor Sequence numbering is used, or if Vendor IDs are entered manually:
In Intacct, go to Account Payables > Configure AP
Under Document Sequencing click Vendors
If this is blank, no Vendor ID sequence is being used, and Vendor IDs are entered manually.
If using Vendor Sequence numbering, enable auto-numbering in Bill.com:
In your Bill.com account, click the gear icon, and then click Settings
Under Accounting, click Preferences
For Vendor Sequence Id, select Use auto-numbering from the drop-down menu.
Click Save
The following steps are several changes you'll need to make in Intacct to correctly configure Accounts Payable.

Make sure Enable reclassification for bills and adjustments is CHECKED
Make sure Enable reversal of unpaid bills is UNCHECKED. This will ensure that updates to unpaid bills are able to sync from Bill.com to Intacct.

Select Disable approval 

Select Enable override of the 1099 flag on an AP line item 
In Intacct, go to Accounts Payable > Configure Accounts Payable
Under Enable functionality:
Under Payment approval settings:
Under 1099's:
Turn off ISO country codes: 
In Intacct, go to Company > Company Info > General Information
Make sure Use ISO country codes is UNCHECKED. 
Configure Summary Frequency, in order to make sure that objects like bills, invoices, payments, etc. can sync correctly:

In the Accounts Payable Configuration and Accounts Receivable Configuration sections, set Summary Frequency fields to Daily or Monthly. 
Accounts Payable: 
Accounts Receivable:
Before running the first sync, you'll need to change some settings in your Bill.com account. 
 Accounting Preferences
Hover over the gear icon, and then click Settings
Under Accounting, click Preferences
Click the edit icon, and make the following changes:
Enable each of the following :
Show Account Numbers
Use Departments
Use Locations
Use Dimensions in Payables

Projects
Vendors
Customers
Classes
Employees
Items
Vendor Sequence Id: See Additional Settings above
Show Chart of Accounts on Bill and Invoice Items: Select No
Show GL Posting Date: Select Yes (The GL Posting Date determines Intacct Batch date; this makes sure transactions appear in the proper period in Intacct)
Note:  Show Vendor Id in Vendor Dropdown and Show Company Name in Customer Dropdown can be set to your preference. They will not affect the sync setup. 
Enter Intacct Credentials in Bill.com
Hover over the gear icon, and then click Settings
Under Sync, click Setup
Click Connect, and then click Continue in the popup window.
Enter Intacct login credentials:

Use the Billcom user created in section 2

Enter the Entity ID for the Entity to sync with this Bill.com account.             
Company ID
Username
Password
Entity ID
Click Save. This will initiate the sync. Confirm that object lists (Customers, Vendors, etc.) transferred over successfully.
Note: Transactions won't sync until you complete the next section of the setup.
Sync Preferences
Assign the default accounts/locations you'd like to use for the following settings:

Assign the appropriate Billcom Clearing accounts.

If multi-entity, confirm the Clearing Account for that specific entity is correct.

If your Intacct account is a shared company (Multi-Entity) specify the Location/Entity that the Funds Transfer journal entries should be posted to in Intacct.

You may specify the department in which the Funds Transfer journal entries should post.

CDJ (Cash Disbursement Journal) or CD (Cash Disbursement). You can view this in Intacct (General ledger > Open Setup > Journals).

Appears as US Dollar, and does not calculate currency conversion.

These settings depends on your workflow. If: 

Make Intacct the default for all.

Make Bill.com the master.

AP/AR workflow is managed in Intacct:
AP/AR workflow is managed in Bill.com:
Not sure: 

By selecting Sync Automatically, your account will sync every 24 hours from the last performed sync. If a manual sync is performed, the time will reset. Your account will sync again after 24 hours from the latest sync time.

Note: The sync might not occur every 24 hours; it may be plus or minus 2 hours.
Unallocated Expenses Account
Unallocated Income Account (if using Receivables)
Bill.com Money Out/In Clearing Accounts
Default Bank Account
Deposit To Account
Funds Transfer Location
Funds Transfer Department
Funds Transfer Journal Symbol:
Transaction Currency
Base Currency
Master in case of conflict:
Auto Sync:
Click Save
Sync again. If there are any sync errors, or if you have any questions, please contact Customer Support.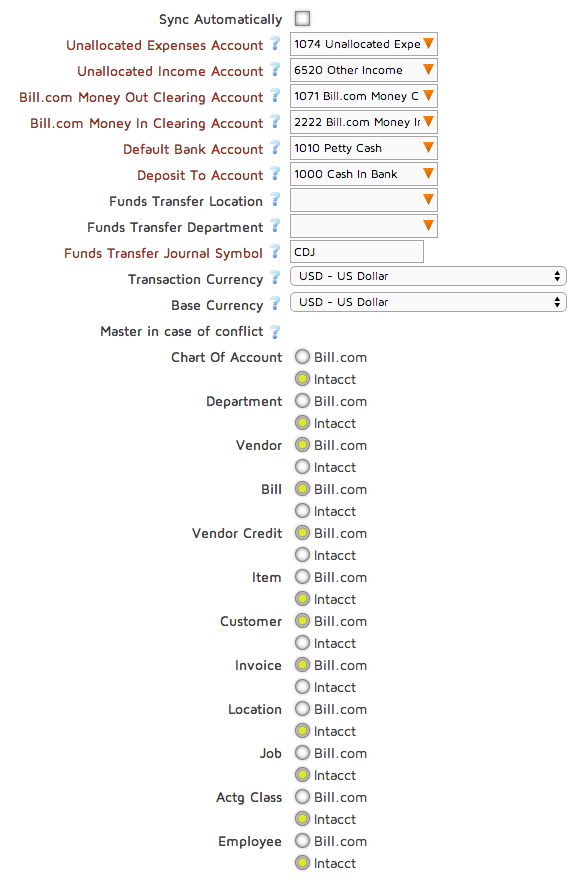 AR Functionality
If you use Accounts Receivable in Intacct, please create an AR Term to match the Payment Term you use in Bill.com. To create an AR Term in Intacct:
Go to Accounts Receivable > Configure Accounts Receivable
In the Setup section
Click Add 
Give the AR Term the same name as the Payment Term in Bill.com
Click Save
Sync again. After the sync is complete, Invoices will show up in Intacct.
If all AR Terms are already created in Intacct, please create them in Bill.com. To create new Payment Terms in Bill.com:
Hover over the gear icon, and then click Settings
Under Accounting, click Payment Terms
Click New
Give the Payment Term the same name as the AR Term in Intacct
Click Save 
Sync again
Purchase Orders and Order Entry
While you cannot view the original Purchase Order in Bill.com, if the Purchase Order number is entered into the Reference number field on the bill and vendor credits in Intacct, the Purchase Order number will appear on bills and vendor credits when they sync over to Bill.com.
The View in Bill.com link is not available on invoices created from Purchase Orders in Intacct. The View in Bill.com link is only available for invoices created in Bill.com and synced to Intacct. 
Purchase/Sales Orders cannot be updated in Bill.com or in Intacct. Bills or vendor credits created from Purchase Orders should be edited in Intacct only, or sync errors may occur.
Credit Cards
Credit Card/Charge accounts should be created in Intacct as a GL Account with a charge account assigned to it. This will appear as a Credit Card-type account in Bill.com.