There are multiple options when processing a document from your Inbox.
Options
Once you send or upload a document to your Inbox, you can:
Create a new:
Bill
Vendor Credit
Payment Received
Document for:

Account
Company
Customer
Invoice
Pmt Received
Vendor
Add to an Existing:
Bill
Vendor Credit
Vendor Doc
Company Doc
Tips
If you have several documents to process from your Inbox, save time by using the multi-function Save button - "SAVE & NEXT ITEM". The document you just processed will be saved, and you will be presented with the next document from your Inbox to process, without any extra steps.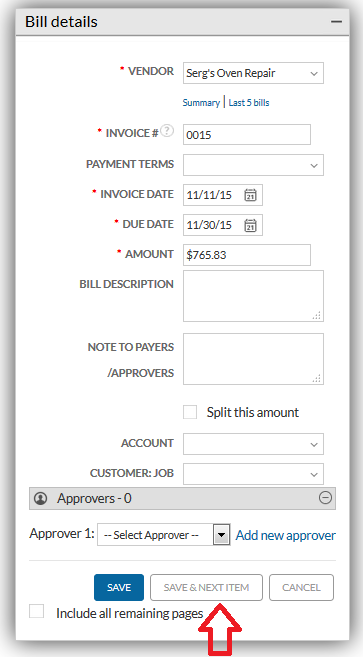 If it is a multipage document and all pages are associated to the same bill, check the box next to Include all remaining pages
Resources