Bill.com utilizes the Bill.com Sync Dashboard to transfer information between Bill.com and QuickBooks for Windows (also referred to as QuickBooks Desktop). The Bill.com Sync Dashboard is available for download in each Bill.com account set to sync with QuickBooks for Windows.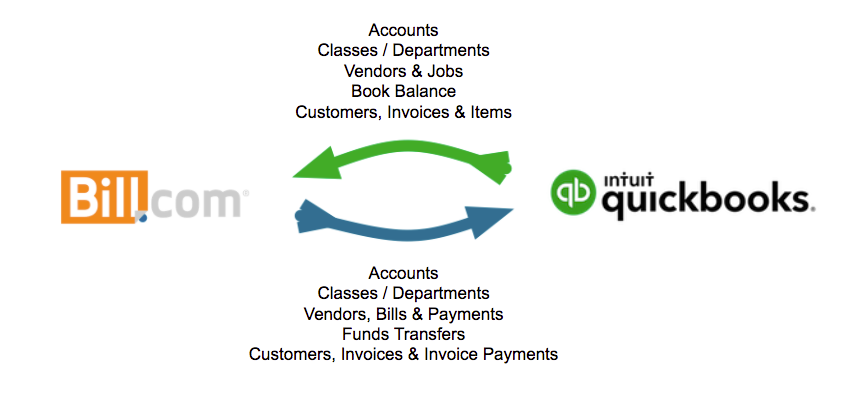 QuickBooks to Bill.com
With each sync, Bill.com picks up QuickBooks changes to:
Accounts
Departments (called Classes in QuickBooks)
Vendors
Jobs (called "Customer: Jobs" in QuickBooks)
Book Balance - shown in Cash Forecast
Customers
Invoices (new and edited invoices)
Items
Bill.com to QuickBooks
QuickBooks picks up any Bill.com changes to:
Things to know
Payables
Bill.com recommends that all bills, vendor credits, approvals, and payments are made in the Bill.com application.
Note: Any changes made in QuickBooks for bills, vendor credits, approvals and payments will not synchronize to Bill.com.
Receivables
Invoices can be created in either QuickBooks or Bill.com.
Invoices created directly in Bill.com can be edited until the invoice syncs to QuickBooks

After the sync, invoices can only be edited in QuickBooks.
Note: Although invoices cannot be edited in Bill.com after syncing to QuickBooks, invoices can still be sent to customers and payments can still be recorded in Bill.com.