Void and Reissue
No adjustment is needed in your accounting software. 
We will reissue the same payment, with any new vendor details (for instance, new address or payment method). 
We pull vendor and account details, but the payment amount remains the same. 
We do not re-debit your bank account.
We do not charge an additional transaction fee for reissuing checks or ePayments
To see the payment, click the Vendor Name and in the Bills section, click the Paid link for the Payment you wish to view.  You'll see details similar to those below: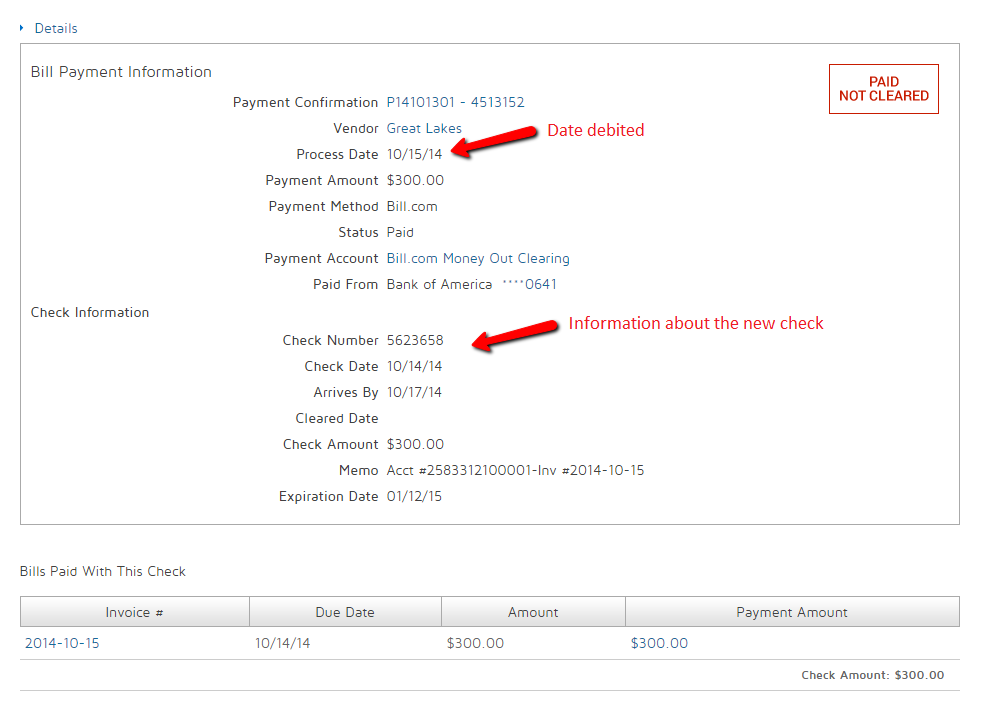 Void and Credit
We may not be able to process Void and Credits immediately - we must check with our bank, to ensure the item has not been presented for payment.  You may see "Void Pending" on the Payment page during this time. Once we receive confirmation, we start the crediting process.   
Once we have started the Void and Credit process, the payment will show as voided in your Bill.com account.
The bill will show as Unpaid.  If the bill does not need to be paid, you should either edit the bill, delete the bill or mark it as already paid from your Pay Bills screen so it is not accidentally paid again in error.
Your refund may take 2 to 5 banking days to arrive in your account.
Note: all checks issued after May 16, 2014 will be printed with the words "Void after 90 days". On the 91st day after the date of issue, the check will expire. Checks issued before May 16, 2014 will not expire, and will still be honored at any time. 
Syncing Void and Credits
Which accounting system do you sync with?

The void will sync back to your accounting system, and no further action is needed. 

While the credit back to your bank account will sync back to your bank account register, the void will not sync back to your accounting system. You must void the payment manually in your accounting system.

QuickBooks Online, Xero, Intacct or NetSuite
QuickBooks for Windows or QuickBooks Enterprise

If you subsequently edit or delete the bill in Bill.com, those changes will sync.  Deleting the bill in your accounting software before Bill.com has had a chance to sync will cause an error.  If this happens, contact us to mark the bill update not to sync.
Resources